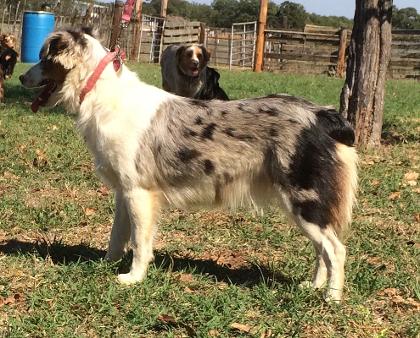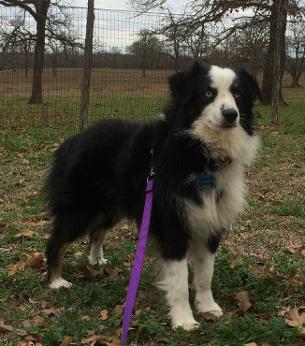 Page Updated on 2/15/16 with 1 week and 2 week old pictures. Their eyes have opened but we are unable to fully assess their final eye color. But it looks like we have some blues :)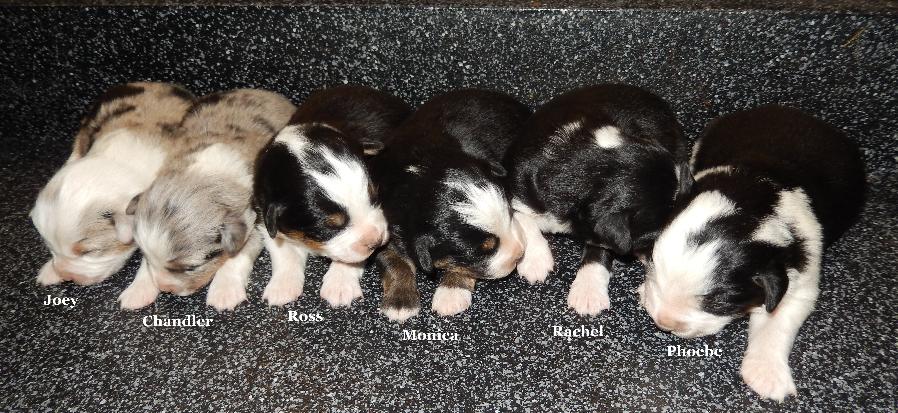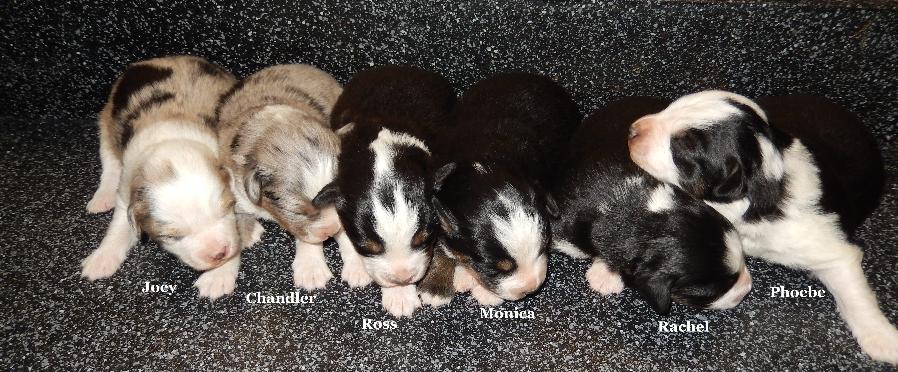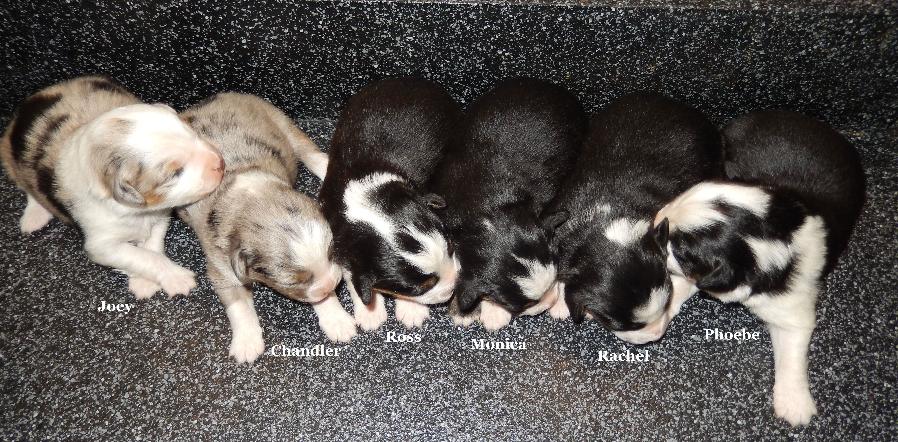 This is Shania's first litter and we couldn't be more esxcited!!!
Shania blessed us with 6 beautiful puppies: 3 boys and 3 girls that were born on January 31, 2016!!
These little ones will be ready to go March 27 just in time for Spring!!
2-Blue Merle Males

1- Black Tri Male
3-Black Tri Females
These puppies are beyond gorgeous and all have a nice large white blaze.
These pups will probably be large toys to small minis around 13-15 inches tall 20-30 lbs.

We have decided to name them after one of our favorite TV shows Friends!!

I will post asking prices of each puppy once they are 3-4 weeks of age so the conformation and eye color can be assessed.
Deposits are half of the puppies asking price and they are non-refundable. Deposits and final payments are acceptable in the form of cash only.
The prices below are for pet only homes, please contact me if you would like to inquire about breeding rights.
All of these puppies will have received their first shots with 3 sets of wormer before they leave and have also had their dewclaws and tails removed.
I also recommend that new owners use Sentinel or any other non-Ivermectin heart worm preventative when their pup is 6 months of age. * See my note at the bottom of the page for more information on MDR1 sensitivity.
My ultimate goal is to find these puppies amazing loving homes, where they will become part of the family just as my dogs are.
Health Testing
Degenerative Myelopathy (DM): Normal (clear through parentage)

Hereditary Cataracts (HC): Normal (clear through parentage)

Progressive Retinal Atrophy/ Progressive Rod-Cone Degeneration (PRA/PRCD): Potential Carriers (Sire is a carrier, therefore theoretically 50% will be carriers and 50% will be normal/clear). Carrier dogs to not display or suffer from this condition.

Multidrug resistance 1 (MDR1):

Potential Carriers (Sire is a carrier, therefore theoretically 50% will be carriers and 50% will be normal/clear). This condition is very common in Aussies (1 in 2 will either be carriers or positive) and is easily omitted by avoiding Ivermectin, like I always encourage for Australian Shepherds.

Please give me a shout if you have any questions, these results can be confusing if you are not familiar with the testing. I also have more information regarding these tests and the meaning of the results at the bottom of my Adult Mini Aussie page.
If you have any questions at all please don't hesitate to call or email me. (817) 996-9343 tianabond@yahoo.com
To open the gallery for each puppy click on one of the tiled pictures below their description. This will open up a gallery of all the pictures I have taken of that particular puppy on your phone or PC. If you are on a phone all you have to do is tap the picture to see the next one and the gallery will close automatically once you have seen them all. If you are on a PC then you can either navigate through the pictures with the arrow keys or your mouse by clicking on the "PREV" Or "NEXT" icons that will appear on the picture once you scroll over it. Then to close the gallery click the "CLOSE" icon at the bottom right corner of the picture. If you have any problems viewing the pictures please give me a call.
Joey
Price: TDB

Blue Merle Male with copper, big white blaze in his face, large complete white collar, and four white socks.