I have 4 RV hookups and 2 horse lots (C1 & C2) for rent!!

Please email me your information to tianabond@yahoo.com if you would like to be considered for these open unit or added to our waiting list for a future date.
RV Hook Ups Rental Fee-
Per night- $50
Per week- $200
Per month- $475 (30 amp), $500 (50 amp) $100* deposit

6 month lease- $450 (30 amp), $475 (50 amp) $150* deposit
Year lease- $425 (30 amp), $450 (50 amp) $150* deposit
*- $25 per dog added to deposit
The above rates include your water, septic and trash service. I have also included a $100 electricity credit. If the meter is charged over $100, you will need to pay the difference. Example: Your meter was billed for $125 then you will owe an additional $25 that month.
To schedule a time to come look at the property please contact Tiana Jackson at (817) 996-9343. Thank You

The property has a full size arena with an automatic Priefert roping chute (see cattle section below) as well as an additional sandy arena ground area in the back pasture which can be worked upon request if additional riding space is needed. Please see the gallery below to see pictures of our horse amenities.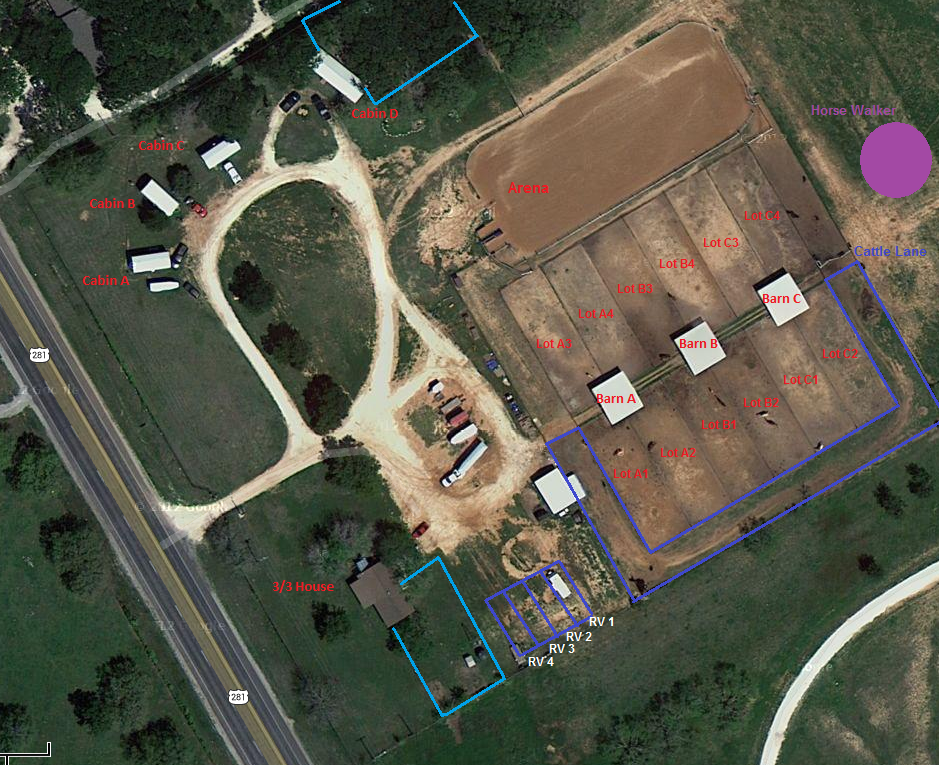 Horse Lots:

The horse lots are 50 by 120 ft with 6ft non climb wire and are all under barn cover.
I have a policy that up to three horses are allowed per lot. In general the monthly prices with a cabin/RV rental per lot are $75 (1 horse) and an additional $25 per horse in the same lot. *IF you are not renting a cabin/RV then you will need to pay a $50 deposit and an additional $25 for each lot.
Therefore, 1 horse in a lot is $75, 2 horses in a lot $100, and three horse in a lot $125.
We do not provide cattle, but you are more than welcome to bring your own. You can rent a horse lot for cattle is for $100 per month for up to 5 steers/calves or we can rent the exterior lane around the barns starting at $100 per month for up to 10 steers/calves.

NEW!!! We have just started a new pasture turn out program that is available for up to 4 tenants that are already renting a lot from us. This program allows a tenant to turn out their horse(s) on a once a week basis for an additional $25 per horse/per month or on a twice a week basis for an additional $50 per horse/ per month.

Please contact Tiana for further pricing and information.